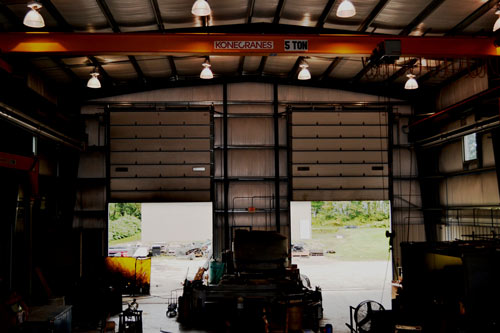 Our Shop
IRW is located in Blairsville, PA, just off of Route 22. We specialize in solving industrial heat transfer problems for a variety of markets. (You may know us under our former name, Barkley's Radiator.) Our capabilities include servicing a wide variety of radiators for heavy equipment, OTR trucking, and the mining and drilling industries. We repair, refurbish, replace, and sell new product as needed. With a focus on exceptional customer service, we guarantee a quick response, affordable service, and the highest level of quality workmanship.
When you are a customer of IRW, you benefit from our state-of-the-art facility. Our shop is 7500 square feet with a 32-foot-high ceiling and an overhead crane capacity of 5 tons. We also operate two additional 2-ton jib cranes.
Environmentally Sustainable
At IRW, we believe in running an environmentally friendly operation, and our water filtration/recycling system enables us to do just that. All water is captured, cleaned, and hauled away by a federally approved company; then, water is then recycled and reused. In addition, all toxic waste is cleaned and transported out several times weekly, helping us to maintain as green a footprint as possible.
Our History
Industrial Radiator Works(IRW) was established in 1948 as the former Barkleys Radiator Repair. In September 2009, Global Heat Transfer(GHT) bought Barkleys Radiator Repair. GHT has several locations across the country with emphasis on the energy sector(oil, gas, coal). Locations include Houston, TX, Gillette, WY, Washington, PA, Altoona, PA and IRW's home Blairsville, PA.
Our 5 locations and over 100 years' experience in radiator repair allows us to diagnose, repair, and/or replace almost all cooling system components. The next time you are faced with a difficult repair, a perplexing problem, or just in need of sound heat transfer advice, think of GHT and IRW as your partners to solve the problem.
The Markets We Serve:
Over the Road Trucking
Construction
Hydraulic Fracturing
Drilling and Mining
Heavy Equipment Dealers
Stone Quarry Operations